With this years race proving to be popular the organizers imposed a cap on the size of the teams so 3 riders made the trip up to Newry; Sean Bracken, Dave "Lardo" Carroll, James Lawless with Davey Byrne Manger.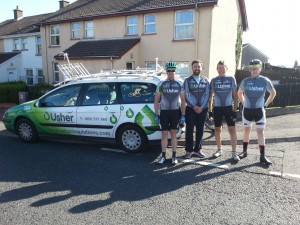 The first stage on Friday evening was 35 miles starting in Warrenpoint. There were a couple of laps along the main road to Newry and back before veering up a climb with 4 steep steps, one of them at 20% gradient. Two NRPT juniors had broken away with a lead of 40 secs by then with the chasing pack having to tackle the nasty decent on the by now, wet back roads. On reaching Warrenpoint the field did 3 laps of a crit circuit through the town with a big crowd cheering them on. The junior escapees were brought back on the last lap and it ended in a bunch gallop.
Saturday brought a 55 mile course with 2 climbs coming in the last 10 miles. Sean was in an early break that got 28 secs at one point but they we were brought back before the stage and overall winner, David Montgomery took off. He had 2 mins at one point and held off to win by 1min 20secs. David is only 19 and has only done a few road races this year and has no club. He was the junior cyclocross champ last year. It was tough over those last two climbs, the last one, Reed Hall was a Cat 1, 3 miles long. Of our men, Sean was the last man over the top maxed out. Lardo wasn't that far ahead of him and James Lawless blew near the top but did well considering he only started racing in May and has lost 4 stone since April! James and Lardo rode the Suir Valley 3 day last week to get into shape for this.
The afternoon time trial was 4 miles in one direction. The lads had been practicing in the weeks leading up to this and it paid off. Lardo was 5th in the TT with a time of 8.14 min, the winner Mark Downey NRPT did it in 7.48min. Lardos average speed was 29.8 mph. This moved him into 6th overall. Sean ended up 18th overall with a respectable TT.
The last stage was 73 miles with 4 nasty climbs in the last 25 mile. As if that wasn't hard enough there had been heavy rain all night. Everyone thought it would stop in the morning but if anything, it got worse! However only a few were put off with the majority of riders showing up for the start. The first few km were nervous but with two primes at 8 and 20 miles the hammer went down. Sitting in the bunch you couldn't see much with the spray in your face. There were lots of technical fast descents. James' wheels were slipping badly and he retired at 15 mile as he didn't feel safe on them. A break went at 18 mile. Sean got Dave up to the front and told him to go after Derek Cunningham [last years winner] who jumped after them. Dave jumped but blew up when almost across. Derek made it across and this break of six stayed away for most of the day but they only had around a minute at most and with the climbs coming they were doomed. The Jersey rode strongly with some other teams helping him as well. The race took in Rathfriarland twice, a 39/23 bitch of a climb. The first time up Lardo looked shaky but himself and Sean got over it near the back. The 40mph descent in the driving rain was hairy to say the least. With 10 mile to go they were altogether when Des Woods broke away to take the win. The last time up Rathfriarland Sean got Lardo up the front only for someones chain to come off forcing Sean to stop and restart. He had to chase down the descent on his own to get back on. There was a mad sprint for 2nd place but our two lads were happy to finish in one piece.
There was only one small crash so it was safe enough considering the wet conditions. The stage winner moved ahead of Lardo on GC so Lardo finished in 7th overall and Sean was 15th overall. It was a good result for Dave and he is on his way to being a 1st Cat rider.
A big thanks to Davy Bryne who did Team Manager after a very late call-up. All the stages started and finished in different locations so it was great to have the team car. We had 5 bikes and loads of wheels as well.
A big thanks to the organizers who put on a great race. The Newry 3-day has been a good race for the club and IRC have the most overall winners of any club. We will be back again and are taking entries for next year now.